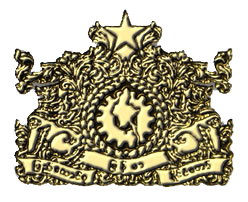 The distinguishing features of the State Seal are as follows:-
a) At the center of the State Seal is a pinion with fourteen equal-sized cogs on which the map of Myanmar is superimposed. The pinion and the map are encircled with two ears of paddy.
b) The ears of paddy are flanked on each side by an artistic Myanmar Lion. The lion on the right side faces towards the right and the one on the left side faces towards the left.
c) The words "The Union of Myanmar" are inscribed in Myanmar below the lions and the ears of paddy.
d) At the top of the State Seal is a star with five vertices.
e) Myanmar floral designs are etched on either side of the ears of paddy and the star.